NHS Contracted Pharmacy
GMC-Registered Doctors
GPhC regulated
Taking up a new sport as a hobby can be a great way of getting exercise and being sociable which can help if you're feeling lonely. 
You might have heard of football, but maybe not walking football - a new form of football targeting the over 40s. Today we speak to Stuart Langworthy who leads England's walking football team. We find out what walking football is, its benefits, how he got involved and how you could too.  
Q. What is the Walking Football Association (WFA) and who can join?
The WFA launched in December 2016 and is the only governing body for walking football in England. The association is run by active passionate playing walking football aficionados and every member of the WFA is a volunteer. Our mission is to promote participation in the sport. In doing so, inspiring activity, seeking to have an impact on physical and mental wellbeing and maintaining a high standard of competitive play. 
The WFA is always looking to recruit and engage people with appropriate diversity, independence, skills, experience and knowledge to take effective decisions that further the organisation's goals. 
Q. What is your role and how did you become a part of it?
I started playing walking football as a hobby in 2014 and then introduced it to my local community club where I was a chairman. As a team, we achieved great success, and that, together with my background as a teacher is what enabled me to start my career at the WFA. 
I started my career with the WFA in October 2017 as the over 60s manager and then went on to also be the assistant manager to the women's over 40 team. I am now the director of the WFA as of April 2021 and am responsible for the development of grassroots walking football. Our aims are to support grassroots walking football at all times. The sport gives players at the grassroots so much pleasure and tremendous health benefits. We like to recognise and celebrate the dedicated people who help to make grassroots.
Q. Why do you enjoy working for the WFA?
I have always volunteered in sport. I was a founding member and chairman of Abbeymead Rovers Football Club in Gloucester for 21 years. 
I love how much walking football benefits people. The sport offers a range of physical and mental health benefits to older age groups including a reduced risk of cardiovascular disease, feeling part of a team and reducing loneliness. 
Recently, I've been involved with two new projects, walking football for people living with Parkinson's and with younger girls. Both projects are fascinating to be a part of. It's been amazing to see the positive impacts the sport has had on others. I believe the WFA is transforming lives and it is so rewarding to see the difference we can make.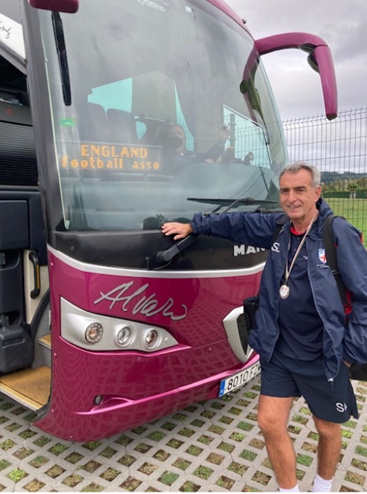 Q. What's the best part of being in a WFA team?
The friendship of the group of volunteers and the fact that we are involved in such a positive thing - we know that the things we are doing are actually changing people's lives. I'm convinced the sport is actually saving some people's lives.  
It is certainly making such a difference to so many - we are on an incredible journey and it just keeps getting better and better - being a finalist in the Sports Business Awards for Sports Diversity is a massive boost that we are doing the right thing.  
On a selfish note, it is also providing me with experiences and opportunities that are beyond my wildest dreams.
Q. How many teams are there in the Walking Football Association and what age brackets are there?
There are now eight national teams. We started with just two in 2018 (over 50s and 60s).  In 2019, the women's teams were included and the growth of the women's game is incredible to see so many older people playing at a higher level. 
The age groups are men over 50s (50-59), over 60s (60-69) over 70s (70+). Women over 40s (40-49), over 50s (50-59), over 60s (60+). However, it's common to have mixed-age teams playing friendlies and in regular club sessions.
As the governing body, we are also heavily involved in grassroots. We estimate that well over 70,000 people are now playing the sport in England and it is being played in over 50 countries around the world.
Q. What's on the horizon for the WFA?
We are very honoured to be a finalist in the Sports Business Awards for Sporting Diversity - up against many other professional organisations. We are holding our first-ever Women's National Cup recently and we hope to develop the regional tournaments in all areas. We thank you, Pharmacy2U for the sponsorship of all the National Cup and Super League competitions. 
We will be holding our first-ever World Nations Cup in Manchester in 2022 for the over 50s and 60s playing against France, Italy, Poland and hopefully other countries too! Hopefully, we can match this event for other ages and women's teams too.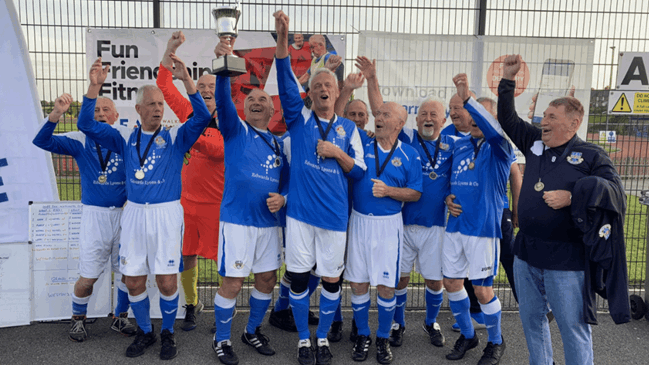 Q. What are the health benefits of walking football?
How long have you got - enormous is the simple answer.  
In terms of physical and mental health and well-being, it is a superb, inclusive sport.  At many club sessions, you will find men and women of all ages and some with long term health conditions joining in together - having a laugh, enjoying the banter, getting fit, getting active and generally having fun.
That is what this sport is about at all levels.  There are developments such as We Are Undefeatable, which was a virtual walking football campaign in lockdown and now a partnership with Sport Parkinson's - as we know that our sport can make such a difference to people's lives.
WFA has been established to support clubs wishing to run sessions for players with impairments and WFA Parkinson's Disease has been established to support PwP.  
I could go on - enormous!
9. How can people join their local team?
The WFA website has a club directory section. This is our database of walking football clubs and walking football sessions. The database is updated periodically so keep checking back to find a club near you. Most clubs will welcome new players with open arms. Come on - give it a go.
You can read more about walking football and how to take part on their website: