NHS Contracted Pharmacy
GMC-Registered Doctors
GPhC regulated
In this article, we talk to our partner, Children's Heart Surgery Fund (CHSF) to understand what they do, how they're raising awareness and what you can do to support a child living with heart disease.
CHSF is a Leeds based charity founded in 1988. Since then, they have raised and awarded many millions of pounds in grants to the Leeds Congenital Heart Unit, its patients and their families, as well as funding important research proposals.
Pharmacy2U as a Leeds based business are proud to be supporting such a worthwhile local cause - over 17,000 babies, children and adults living with congenital (from birth) heart disease pass through the Leeds Congenital Heart Unit every single year.
Find out what they do every single day:
What is congenital heart disease?
Affecting almost one in 100 births, congenital heart disease is an umbrella term used to describe any heart condition or defect that develops in the womb, before a baby is born.
There are different types of congenital heart disease, a baby's heart valves may not be properly formed or there may be holes between the chambers of their heart.
There are many potential causes of congenital heart disease which are quite often caused by complications in the early development of a foetus. Family history and other conditions such as diabetes can slightly increase the chance of a congenital heart defect too.
But while some things are known to increase the risk of congenital heart disease, no obvious cause is identified in most cases.
How is congenital heart disease detected?
Congenital heart disease may initially be suspected during a routine ultrasound scan of the baby in the womb. Specialist ultrasound, called foetal echocardiography, will then be carried out at around 18 to 22 weeks of the pregnancy to try to confirm the exact diagnosis.
This may also be undertaken if there's a family history of congenital heart disease or where there's an increased risk. However, some conditions may not be discovered until the child is older or even an adult.
With the right support, most children with congenital heart disease will grow up to become adults and lead full and active lives.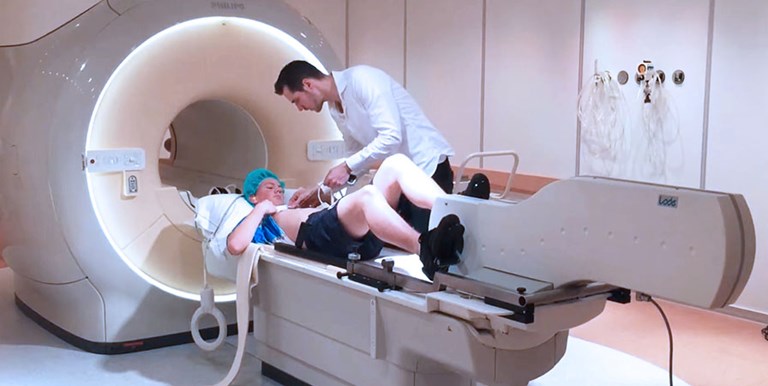 How Pharmacy2U is supporting CHSF
We are delighted to be sponsoring CHSF. They raise money to help the Leeds Congenital Heart Unit at the Leeds General Infirmary and provide superb care for its young patients and their families, but their work doesn't stop there. More than 40% of the children who have an operation will need long-term care, and each year 17,000 congenital heart disease patients pass through the unit. They support them every step of the way – from womb to adulthood.
Our donation helps CHSF provide support to babies, children and adults across Yorkshire and North Lincolnshire with congenital heart disease who are treated at Leeds Congenital Heart Unit within Leeds General Infirmary.
Donations go towards life-saving medical equipment, vital ward facilities and parent accommodation for people who don't live locally.
They work tirelessly to deliver a programme of practical and financial support for children and their families each year.  They support hundreds of families and children who have open-heart surgery each year. Every donation is vital for their work.
Find out more about Pharmacy2U and our services.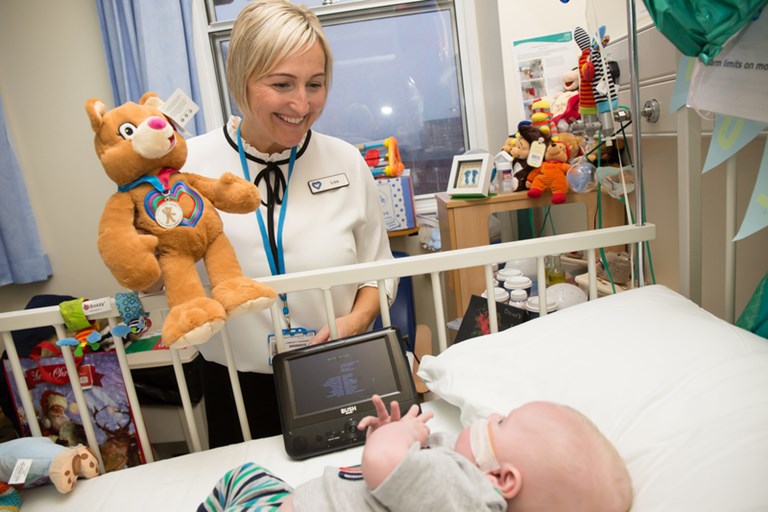 What is Wear Red Day?
Wear Red Day was launched in 2012 by a parent supporter to give money back to the Unit that had treated her child. It is now an annual event that occurs on the first Friday each February
The day is run by the charity to raise awareness about congenital heart disease in children and young people, and raise valuable funds for the Leeds Congenital Heart Unit.
This year it's Wear Red Day's 10th birthday. We're inviting everyone to rock the red on the first Friday in February to help CHSF raise vital awareness of congenital heart disease in Yorkshire and much-needed funds for local heart warriors and their families.
Your support is vital to children like Evie. Evie's mother was told she was going to be a poorly baby and could need quite a lot of surgery. Doctor's even said she might only live a few hours! As well as her CHD, Evie also has other needs such as profound deafness, muscle delay and Urban Syndrome in her eye. Through support from CHSF, and treatment at the Leeds Congenital Heart Unit, Evie was able to get the surgery she needed to get better and go on to live a bright life.
Heart warrior Evie is just one of the thousands of babies, children and adults living with congenital heart disease in Yorkshire who is supported by CHSF. The money that is raised for this CHSF will help Evie and lots of other children live healthy and happy lives in the future.
Read more about Evie's story here.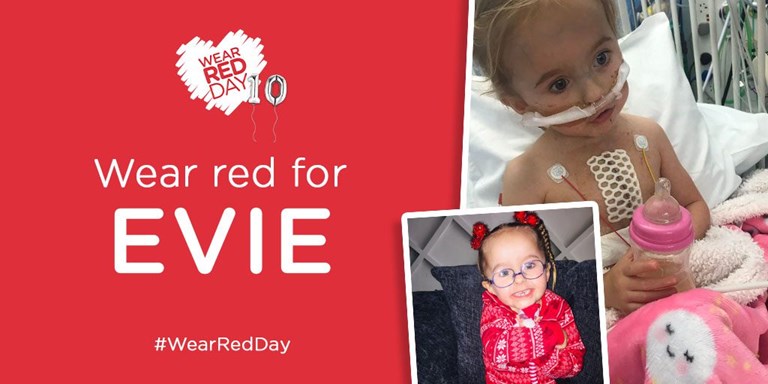 Phil Day, Pharmacy2U's Superintendent Pharmacist says "we're delighted to be sponsoring Children's Heart Surgery Fund, helping to support the Leeds Congenital Heart Unit and the children who are being treated there and the impact on their families".
At Pharmacy2U, we're all about giving people one less thing to worry about, by making repeat prescriptions simple and delivering medication for ongoing treatment to people's homes, for free. Our pharmacy team are also on hand for any medication queries you might have.
Sign up to the Pharmacy2U NHS repeat prescription service, then order with us and have your prescriptions delivered to your home for free.
Further support
Our partner, the Children's Heart Surgery Fund is always looking for community fundraisers, corporate partners and any help you can give in their mission to support hearts for life:
Get in contact by calling 0113 831 4810 or email info@chsf.org.uk
The Leeds Congenital Heart Unit website, which is sponsored by Children's Heart Surgery Fund, offers information, advice and support for anyone affected by congenital heart disease:
Every donation to Children's Heart Surgery Fund helps to support patients of all ages affected by congenital heart disease across Yorkshire and North Lincolnshire.
You can donate by visiting their website.