NHS Contracted Pharmacy
GMC-Registered Doctors
GPhC regulated
Tuesday, 21st February is Shrove Tuesday, also known as Pancake Day, which traditionally is the day where we get to indulge in delicious pancakes. But if you're living with a medical condition, like diabetes or high cholesterol, you may feel cautious over the potential high levels of sugar or fats that pancakes can contain. So we've put together some suggestions and substitutes for both sweet and savoury pancakes that help reduce the sugar and fat levels. Allowing you to enjoy the day without compromising on your health. 
Pancake Mix Ingredients (serves 4)
200g plain flour 
2 large eggs
350ml milk
Pinch of salt
Oil (for cooking)
Healthy swaps and tips for your pancake mix
Use skimmed milk
Don't add butter to the mix

 – this will reduce the amount of fat your pancakes will have.

When cooking use low calorie spray oil

 – using a low calorie spray can have up to 95% less fat than other pouring oils. 

You can also swap plain flour to other types of flour e.g. oat, buckwheat, wholemeal 
How to make your pancakes:
Pour the flour, eggs, milk and salt into a large bowl and mix to a smooth batter.
Take a large non-stick frying pan and add in your oil, if using low calorie spray oil, spray until the pan is well covered. If using other oils, dip a piece of kitchen roll paper in the oil and carefully wipe the inside of the pan. Heat the oil in the pan for 1 minute over a medium heat.
Add just under a ladle full of the batter to the pan and spread until it becomes a nice even layer.
Cook the pancake for around 40 seconds, check the underside of the pancake to make sure it is golden brown before turning over. Then cook the other side for around 40 seconds. Once both sides are golden brown transfer onto a plate to serve. 
Healthier ideas for sweet toppings or fillings
These topping ideas are lower in fat, so are a better option for those living with high cholesterol. They also have less sugar than traditional sweet toppings, so they may be more preferred for those living with type 2 diabetes where sugar levels have to be monitored.
Low fat yoghurt and berries
Fresh fruit: strawberries, blueberries and banana 
Chopped walnuts
Grated lemon or orange zest and low calorie granulated sweetener
Tip: try baking fruits such as pineapple chunks, apple and pear slices, sprinkle them with cinnamon and serve warm on top of your pancake.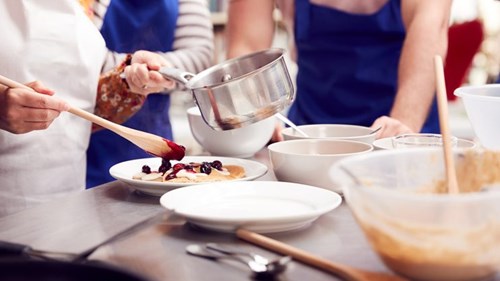 Healthier ideas for savoury toppings or fillings
Cooked spinach, mushrooms and a soft cooked egg
Avocado and tomatoes with pumpkin seeds
Making these small swaps and trying out these healthier topping options means you can enjoy Pancake Day without any of the guilt!