NHS Contracted Pharmacy
GMC-Registered Doctors
GPhC regulated
The summer weather brings with it the much loved BBQ season. Barbecues can be a great way to socialise and enjoy the outdoors now that lockdown restrictions have eased, but some barbecue food can add significant amounts of salt and saturated fat to your diet, which isn't great news for your heart.
Over time, eating too much salt can raise your blood pressure, and too much saturated fat can raise your "bad" cholesterol levels. Plus, it's easy to eat and drink more at a barbecue than you usually would, especially if it stretches over several hours.
But barbeque food doesn't have to be bad for you. We share some top tips from our partner British Heart Foundation on how you can make your barbeques healthier using quick and easy swaps that are still full of taste! 
How to choose the best barbecue meat
Using leaner cuts of meat can greatly reduce your saturated fat intake. Buying loin of pork instead of ribs, or lean steak rather than a fattier cut, are healthier choices. And don't forget to remove skin from chicken. 
It might be more expensive to buy leaner meat, so you need to think differently about how you use it. Instead of cooking whole pieces of meat, slice or cube it, so that it can be threaded onto skewers along with vegetables such as peppers, onions and courgettes.  
To compensate for having less moisture due to a lower fat content, you can tenderise meat by marinating it. The acids in the marinade, like lemon juice or vinegar, will break down the muscle fibres or tough bits of meat to make it softer and easier to eat.
Even though there is less fat in lean meat, you don't have to add extra oil to stop it from sticking. Just keep an eye on the meat when you put it on the barbecue and don't forget to keep turning it.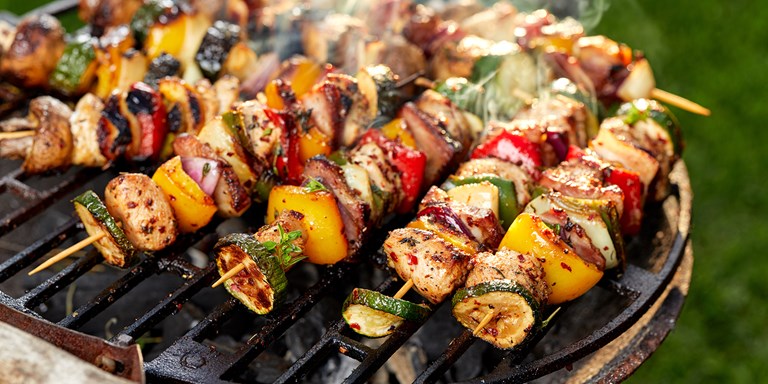 How to make your own marinade
Shop-bought rubs and marinades are often low in fat, but can be high in added salt, so check nutritional information carefully and try to choose products with green traffic light labels.
It's simple to add your own flavours in a healthy way. A marinade of lemon, rosemary or sage and a little bit of oil is simple but tasty. Or use fresh herbs such as parsley, coriander or basil along with some citrus fruit such as orange, lemon or lime (grated zest and juice) once the meat has cooked. 
You can also try making your own pastes to marinate meat. Use flavourings such as onion, garlic, lemon, lime and fresh herbs mixed with a little rapeseed or sunflower oil. Alternatively, you could create a spice paste that packs a punch, using smoked paprika, cumin, dried chilli, curry powder or cayenne pepper.
How to choose the healthiest sausages
It's important to check nutritional information to make sure you are opting for those that are lowest in salt and saturated fat. There can be a wide variation between different products within the same category. 
The difference between premium and budget sausages is likely to be that the more expensive product will have fewer ingredients, a higher meat content and the use of 'natural' casings (skin). But this doesn't always mean they are healthier – premium sausages can be just as high in salt as cheaper ones, and are often higher in fat (because of the higher meat content).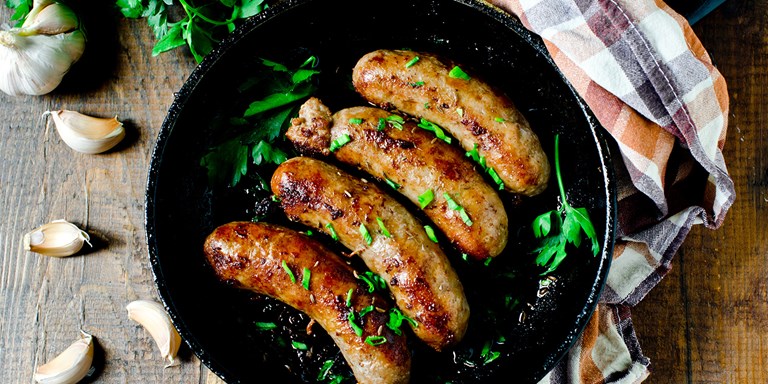 How to make your own salad dressing
Beware of traditional salad dressings, which can be laden with fat and salt, and remember that things like potato salad and coleslaw contain lots of mayonnaise. Instead, you could try a salad with a lighter dressing.
You can also try mixing some low-fat yoghurt into mayonnaise to lighten it up, but keeping the creamy flavour. As well as traditional salad leaves, you can also try grilling slices of Mediterranean-style vegetables, such as aubergine, peppers, red onion and courgette, on the barbecue. Serve as they are or drizzle with a little bit of vinaigrette dressing or with some tzatziki (yoghurt, garlic and cucumber dip on the side.)
How to drink less alcohol
It can be easy to overdo it when you're enjoying a barbecue. If you are drinking alcohol, think about alternating your alcoholic drinks with non-alcoholic ones. You can also try diluting them – make wine into a spritzer or go for a half-and-half shandy if you are drinking beer, lager or cider. 
Or why not try an alcohol-free alternative? Water or sugar-free fizzy drinks are the obvious choice, but if you want to give your drinks a twist then try adding elderflower cordial and a squeeze of fresh lime juice to sparkling water. Or try mixing combinations of pure fruit juice with some water and lots of ice for a refreshing drink.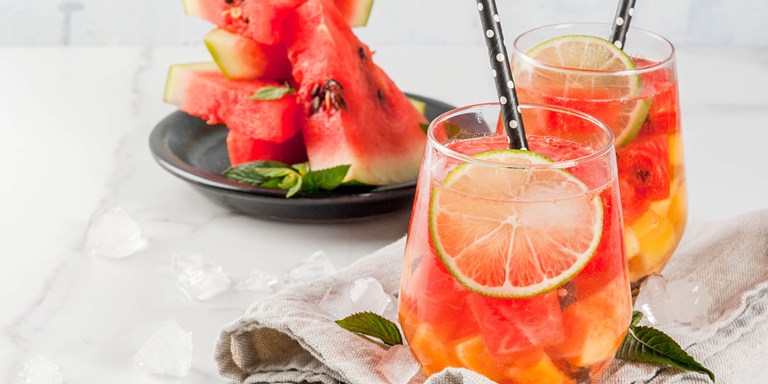 Read the full article by British Heart Foundation here
By having your medication delivered to your home for free, you can spend less time worrying about collecting your prescriptions and more time spent enjoying BBQ's and socialising with your friends and family.