NHS Contracted Pharmacy
GMC-Registered Doctors
GPhC regulated
The indulgent Christmas season can often be a struggle for people living with health issues as enjoying food can be a big part of the festive celebrations. So we've put together a mindful menu for you to use over the festive period that is not only delicious but also health friendly! These creative recipes from our partner the British Heart Foundation allow you to still enjoy hearty food with friends and family without compromising your diet or health management. 
We have listed some healthy recipes, from starter to dessert for you to try so that you can have a healthy and happy Christmas.  
Starter – Red Onion and Goats Cheese Bruschetta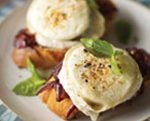 Full of flavour, these are a great option for Christmas appetisers as they can be made in under half an hour. The perfect light bite before dinner or just as nibbles for family and friends.
Serves: 2
Prep time: 5 minutes
Cook time: 20 minutes
Ingredients you need:
2 teaspoons olive oil
1 red onion, thinly sliced
2 teaspoons light soft brown sugar
1 tablespoon red wine
Freshly ground black pepper, to taste
4 slices baguette or French stick
1 small clove garlic, halved
4 slices soft goat's cheese (from a log, with rind on) – about 60g (2 1/4oz) total weight
Small fresh basil sprigs, to garnish (optional)
Method:
Heat olive oil in a non-stick saucepan or small non-stick frying pan; add onion and cook over a medium-low heat for 5-7 minutes or until beginning to soften, stirring occasionally. Stir in sugar; cook for a further 5 minutes or until onion has softened and caramelised, stirring frequently.
Carefully add red wine; increase heat and cook for 1-2 minutes or until wine has evaporated, stirring continuously. Remove pan from heat; season with black pepper, set aside and keep warm.
Preheat

 

the

 

grill to medium-high. Lightly toast bread slices on both sides; while still hot, rub garlic halves over one side of each piece of toast. Divide caramelised onion between toast slices, piling it on to garlicky sides.
Top each bruschetta with a slice of goat's cheese; pop back under grill briefly until cheese is just beginning to soften. Garnish with basil, if desired; serve immediately.
Why not try: Soft goat's cheese slices (from a log, without rind) can be substituted for rind-on goat's cheese and served as it is or briefly grilled (as above) before serving.
Originally posted on the British Heart Foundation website, full recipe information and nutritional information can be found here. 
Dinner – Festive Chicken and Chestnut Pie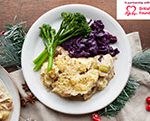 Mindful Chef and the British Heart Foundation have united on a mission to raise awareness of how a healthy, balanced diet can help support heart and circulatory health. Chosen by BHF dietitians, this festive chicken and chestnut pie from Mindful Chef helps keep your heart healthy and is delicious. This healthy recipe uses almond cream instead of dairy cream to give it a luxuriously creamy flavour without high levels of saturated fat.
Serves: 2
Prep time: 20 minutes
Cook time: 50 minutes
Ingredients you need:
150g (5oz) red cabbage
1 apple
1 chicken stock cube
1/2 tsp red wine vinegar
1 star anise
400g (14oz) parsnip
300g (10oz) chicken thighs
1 leek
40g (1.4oz) pre-cooked chestnuts
1 ½ tsp buckwheat flour
1 tsp dried sage
100ml (3.5fl oz) almond cream
180g (6oz) Tenderstem broccoli
Method:
Preheat the oven to 220C / fan 200C / gas mark 7. Boil a kettle.
Finely slice the red cabbage. Peel the apple, core and roughly dice. Dissolve the stock cube in a jug with 350ml boiling water. Heat 1 tsp oil in a saucepan and cook the red cabbage for 5 mins. Add the apple, red wine vinegar, star anise and 250ml stock to the cabbage, then bring to the boil. Reduce the heat slightly and simmer for 30 minutes, stirring occasionally, until the cabbage has absorbed the stock. 
Peel the parsnips and dice into 1cm cubes. Place into a large saucepan, then cover with boiling water and add a pinch of salt. Boil for 20 mins or until soft, then drain. Add 1 tsp oil, season with black pepper, and mash with a potato masher. Keep warm. 
Meanwhile, heat a large frying pan with 1 tsp oil on a medium heat. Dice the chicken thighs into chunks, add to the pan and season with black pepper. Cook for 5 mins, until turning golden brown. Thinly slice the leek and add to the pan. Cook for a further 5 mins, until the leek has softened. 
Add the buckwheat flour and a splash of chicken stock to the pan, then continue to cook for a further minute. Add the remaining stock and almond cream. Stir through the dried sage and chopped chestnuts. Season with black pepper and simmer for 15 mins, until thickening. 
Place the mixture into a large ovenproof dish and top with the parsnip mash. Place into the oven for 15 mins, until bubbling. 
While the pie is in the oven, half-fill the saucepan you used to cook the parsnips with boiling water. Add the Tenderstem broccoli and boil for 4 mins, then drain. Divide the chicken pie between warm plates. Serve with the Tenderstem and braised red cabbage.
Originally posted on the British Heart Foundation website, full recipe information and nutritional information can be found here. 
Dessert – Very Berry Trifle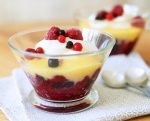 Finally, finish with something sweet with this healthy twist on a classic berry trifle. Instead of using cake for the base, switch to bread. This may seem strange but works really well as the bread soaks up the sweet juices of the fruit!
Serves: 2
Prep time: 15 minutes, plus chilling
Cook time: 10 minutes
Ingredients you need:
55g (2oz) good quality, crustless, white bread
140g (5oz) frozen mixed summer fruits, plus a few extra to decorate
Pared zest and juice of 1 large orange
100ml (3½ fl oz) skimmed milk, plus 2 tbsp
30g (7 level tsp) low fat custard powder
125g (4½ oz) fat free, thick set yogurt, such as Greek yogurt or skyr (fat-free Icelandic-style strained yogurt)
Method:
Cut the bread into small cubes and divide between two serving glasses.
Put the frozen fruit in a small saucepan with the orange zest and half the juice, about 50ml (2fl oz). Bubble gently, without stirring too much, until the fruit is soft. Cool a little, remove the zest, then divide the mixture between the two glasses. Press down lightly to push the juice into the bread. 
Put the remaining orange juice into a measuring jug and make up to 100ml (3½ fl oz) with water. Add 100ml (3½ fl oz) skimmed milk.
Blend the custard powder to a smooth paste with a little of the liquid then mix both in a small saucepan. Slowly bring to the boil, then simmer, stirring all the time, for 2-3 minutes until thickened.
Cool the custard a little before spooning all but 3tbsp over the fruit mixture. Leave to cool completely.
Beat the reserved custard into the yoghurt with 2tbsp of skimmed milk and spoon on top of the custard. Chill for at least 30 minutes before serving.
Serve decorated with a few extra frozen fruits.
Cook's tip: To get ahead, make the trifles to the end of step 5 then cover and chill. Finish up to 2 hours before serving. 
Originally posted on the British Heart Foundation website, full recipe information and nutritional information can be found here.
These hearty recipes are not the only thing that will help get you in the Christmas spirit this season. Due to the easing of restrictions in England, we will be able to spend some much needed time with family and friends in temporary Christmas bubbles. If you're hosting the festivities this year, our Superintendent Pharmacist has some helpful advice on how you can reduce the risk of catching and spreading Covid-19 here, helping to keep you and those in your Christmas bubble safe and healthy.