NHS Contracted Pharmacy
GMC-Registered Doctors
GPhC regulated
Omeprazole (ow-meh-pruh-zowl) and lansoprazole (lan-SOH-prə-zohl) belong to a group of drugs called proton pump inhibitors (PPIs) and are often prescribed for acid reflux. In this blog we talk to Mel, our senior pharmacist, to understand the differences between omeprazole and lansoprazole and why you might be prescribed one instead of the other.
What are proton-pump inhibitor medications?
Proton pump inhibitors (PPIs) are a group of medicines that work on the cells that line the stomach to reduce the production of stomach acid. Common PPI medications include esomeprazole, lansoprazole, omeprazole and pantoprazole.
Antacids such as Gaviscon work by neutralising acid within the stomach after it has been produced. In contrast, omeprazole and lansoprazole and other PPIs work to prevent the stomach from producing too much acid in the first place.
What are omeprazole and lansoprazole used to treat?
PPIs including omeprazole and lansoprazole are commonly used to:
Treat ulcers in the stomach and the part of the gut called the duodenum which is the first part of the small intestine.
Reduce acid reflux which may cause heartburn or inflammation of the throat (oesophagitis). This condition is sometimes called gastro-oesophageal reflux disease (GORD).
Help prevent and treat ulcers associated with anti-inflammatory medicines called non-steroidal anti-inflammatory drugs (NSAIDs).
Treat a rare condition called Zollinger-Ellison syndrome in which one or more tumours form in your pancreas or the upper part of your small intestine (duodenum).
In other conditions where it is helpful to reduce acid in the stomach. 
PPIs usually work very well to reduce stomach acid and to treat the conditions listed, which is why they are commonly prescribed by doctors.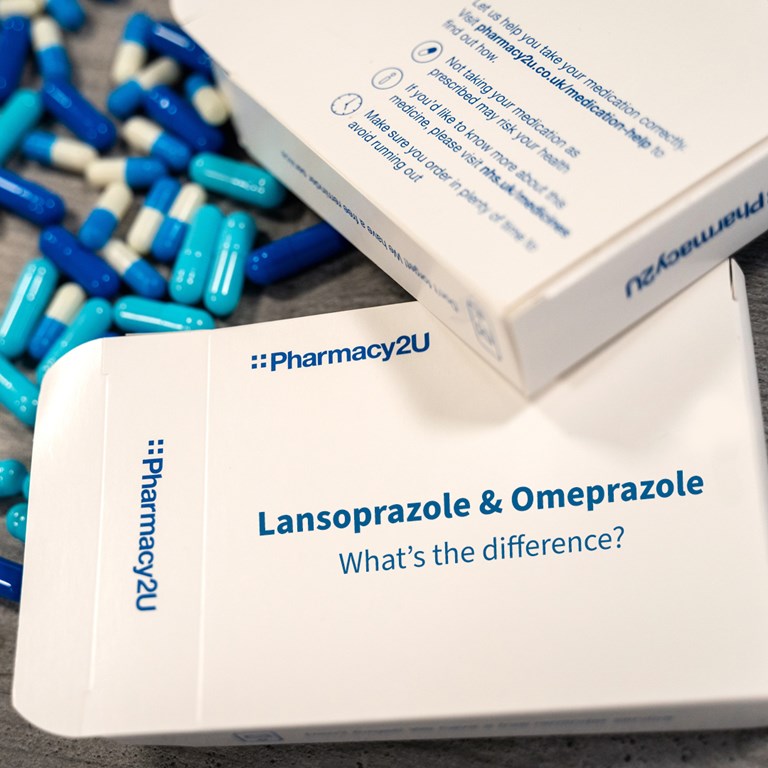 Omeprazole vs lansoprazole comparison
| | | |
| --- | --- | --- |
|   | Lansoprazole | Omeprazole |
| Drug class | Proton pump inhibitor | Proton pump inhibitor |
| First approval date | 05/10/1995 | 01/05/1998 |
| What forms does the drug come in? | Gastro-resistant capsule, orodispersible tablet, oral suspension | Gastro-resistant capsule, gastro-resistant tablet, oral suspension  |
| What is the standard dosage? | Varies by indication: usually 15-30 mg once or twice daily | Varies by indication: usually 20-40 mg once or twice daily |
| How long is the typical treatment? | 10 days to 12 weeks, many patients take longer | 10 days to 8 weeks, many patients take longer |
| How long does it take to work? | Lansoprazole takes around 2 - 3 days to have full effect | Omeprazole takes around 1 hour, 2 hours to have full effect |
| Drug interactions | Methotrexate (especially high-dose treatment) | Cilostazol, clopidogrel, methotrexate (especially high-dose treatment), rifampin, St John's wort |
| Suitability | Adults; children 1 year and older | Adults; children 2 years and older |
What are the differences between lansoprazole and omeprazole? 
Both lansoprazole and omeprazole are medications used to effectively treat acid reflux as they are from the same drug group. Be reassured that whichever medication you are prescribed, they are both effective.
There are some small differences that we have outlined below.
Lansoprazole
Lansoprazole has been shown to be slightly more effective at treating acid reflux than omeprazole in some studies. However, over-the-counter antacids, such as Gaviscon, which counteract the effects of stomach acid, can reduce the absorption of this medicine from the gastrointestinal tract and may decrease its effectiveness. Therefore, we recommend that lansoprazole should not be taken within two hours of taking antacids.
If you are anaemic or iron-deficient then you should consult your doctor before taking lansoprazole, as it can reduce the absorption of iron supplements.
Lansoprazole is only available on prescription.
Recommended lansoprazole dosage
Lansoprazole is typically prescribed for once-a-day use at 15mg, to be taken at the same time each morning. You should aim to take lansoprazole at least 30 minutes before consuming any food as this can slow down the action of the medication.
Omeprazole
Omeprazole is most commonly prescribed in capsule form; however, it is also available as a liquid. Omeprazole can reduce the effectiveness of clopidogrel (an antiplatelet medicine to prevent blood clots), and although studies have not shown an increased risk of cardiovascular events, lansoprazole may be a better choice for people taking clopidogrel.
Omeprazole in 10mg capsules can be purchased over the counter for short term use after a consultation with a pharmacist. Higher strengths or longer courses must be prescribed by your doctor.
Recommended omeprazole dosage
Omeprazole is usually taken before a meal in a single 20 mg dose. Your doctor will advise on the correct dose for your needs, when and how often to take it.
Lansoprazole and omeprazole dosage
Ideally, you should take lansoprazole or omeprazole in the morning on an empty stomach, but if you forget then there is no harm in taking it with food. Some people find it more suitable, due to their symptoms, to take at night. You will gain the same benefits from the medication either way. You may just find it easier to take the medication regularly in the morning as part of your daily routine. If you have concerns about how or when to take your medication, speak to a pharmacist who can provide the best advice for you.
Would you ever take lansoprazole and omeprazole together?
There is usually no reason for both medications to be prescribed at the same time.
Lansoprazole and omeprazole side effects
The majority of people do not experience side effects when taking omeprazole or lansoprazole (there are some risks with longer-term treatment - see below). However, there are a number of mild potential side effects, and they usually pass. 
Common side effects can include:
Headaches
Sick feeling
Diarrhoea
Vomiting
Constipation
Stomach pain
Wind 
Serious side effects
Serious side effects are rare and happen in less than 1 in 1,000 people.
Call a doctor straight away if you have:
Yellow skin, dark pee and tiredness – these can be signs of liver problems
Joint pain along with a red skin rash, especially in parts of your body exposed to the sun, such as your arms, cheeks and nose – these can be signs of a rare condition called subacute cutaneous lupus erythematosus. This can happen even if you have been taking omeprazole for a long time
If you have experienced an allergic reaction to either of these medications in the past, or have a history of liver problems, it is important to mention this to your doctor before beginning a course of treatment.
If you experience any unpleasant side effects or are unsure if the medicine is helping, talk to your doctor or pharmacist. You can report side effects to the Yellow Card Scheme which helps the Government's medicines safety agency ensure safety concerns are identified, collated and addressed. 
Alternative options to omeprazole and lansoprazole?
There are 3 other medicines that are similar to omeprazole and lansoprazole. They are:
Like lansoprazole and omeprazole, these medicines are PPIs, and they work in the same way to reduce acid in your stomach. They are available on prescription.
Alternatively, you could also try an over-the-counter antacid such as Gaviscon first before visiting your GP if you are experiencing acid reflux. Speak to your pharmacist about the best over-the-counter medication for your symptoms. Try this medication for 3 weeks, and if there is no improvement it's important to speak to your GP who will check for any underlying problems that could be causing the discomfort.
Both over-the-counter antacids such as Gaviscon, and prescribed PPIs including lansoprazole and omeprazole, are safe treatment options and have passed all the relevant safety checks in the UK.
Are there any issues with taking omeprazole and lansoprazole medication long-term?                                                  
Both omeprazole and lansoprazole can cause the levels of magnesium in your blood to fall if they are taken for longer than 3 months continuously. The symptoms of low magnesium can include tiredness, confusion, dizziness, and cause muscle twitches, shakiness and an irregular heartbeat. If you get any of these symptoms, tell your GP immediately. 
Taking omeprazole or lansoprazole for more than a year may increase your chances of certain problems including bone fractures, gut infections, and vitamin B12 deficiency (symptoms include feeling very tired, a sore and red tongue, mouth ulcers and pins and needles). 
If you take either medication for longer than a year, your GP will regularly check your health to see if you should carry on taking it.
Are omeprazole and lansoprazole prescription-only?
Omeprazole 10mg capsules can be purchased from a pharmacy for short term use. For continued use or higher strength capsules, a prescription is required. Lansoprazole capsules are prescription-only. A prescription can be obtained via your GP; you should consult them if you have any concerns relating to stomach acid.
Useful resources
For more information, talk to your GP or pharmacist. You may also find the following links helpful.
https://www.nhs.uk/medicines/omeprazole/
https://www.nhs.uk/medicines/lansoprazole/
https://yellowcard.mhra.gov.uk/ 
Order prescriptions to your home
If you already receive NHS repeat prescriptions for either medication, then order with us and have your prescription delivered to your home for free.
Alternatively, you can order Gaviscon or other over-the-counter indigestion medication from our pharmacy shop.